---




Capt. Douglas John Bell "The Last Patrol" 1918
US$ 3,132
SOLD




Through the Eyes of Octave Chanute
US$ 336
SOLD




North American Harvard - Paper Prints S/N LE
US$ 69
SOLD




Mirage F1 CZ over Magaliesberge
US$ 377
SOLD

---




Saab Gripen C at Take-off
US$ 336
SOLD




Reaction Force
US$ 349
SOLD




Airborne Bridge Demolition
US$ 440
SOLD




Airborne Waterpoint
US$ 848
SOLD

---




Da Vinci's Aerial Screw
US$ 134
SOLD




Harvard
US$ 64
SOLD




L'Agulhas Fly-past
US$ 448
SOLD




Lt Col AW Roberts
US$ 638
SOLD

---




Minister Lindiwe Sisulu
US$ 638
SOLD




Lt. Col. Clive Shepherd
US$ 638
SOLD




Maj Gen L.C. Nobanda
US$ 183
SOLD




Maj Gen L.M. Dlulane
US$ 183
SOLD

---
Remove Juanita from your favorite artists list
Add Juanita to your favorite artists list
About Juanita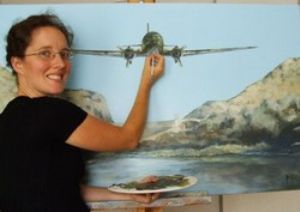 Juanita is a visual artist, exhibiting and working on the commission since 2000.

Please visit her website (Google: Juanita Benade bespoke-art.org) and Etsy shop (link via her website) for hot off the press artworks, career developments, and special offers.

Juanita's works feature in international corporate and personal collections, with patrons in The United States of America, Canada, Europe, the United Kingdom, and New Zealand.

She was one of the founding members of the "South African Guild of Aviation, Military, and Maritime Artists", a Special Interest Group affiliated with the South African Air Force Museum, Zwartkop Air Force Base.

Currently, Juanita is busy with an extensive project on "Horses in War and Peace".

Commissioning highlights from her career include among others:

* A World War 1 Commemorative Commission by the UK-based family of Capt. D.J. Bell MC & Bar, on his last patrol over Thiepval, France.

* Airborne Engineering Commissions by 44 Parachute Engineer Regiment and the South African Army Engineer Formation.

* Several Formal Portraiture Commissions by the South African Army Foundation.

* A Commemorative Commission by the South African Air Force Museum, Zwartkop. The work depicts the Museum's C47 Dakota as part of Dakota's 75th Anniversary Maiden Flight commemorations.

* Various other genre works as private and corporate commissions for local as well as international clients.


Research and Illustrated Published Articles include among others:

* The Alouette III. "From Dragonflies to Birds of Prey: Helicopters in the South African Air Force"; 2017.

* Capt. Douglas John Bell MC & Bar. "The Sparrow and the Sopwith Camel"; 2016.
(Frontispiece of the Winter 2018 issue of the Royal Air Force Museum's magazine "RADAR".)

* Sopwith Camel. "SAAF Museum, Swartkop - Zwartkop Scale Modellers' Sopwith Camel Scale Model Restoration Project"; 2016.

* Scale Modelling. "Recreating Life in Miniature"; 2016.

* South African Spitfire Restoration. "The Fire Within"; 2015.

Other artworks depict experiences and memories acquired during overland trips through Namibia and rural South Africa and subsequently also Botswana, Zimbabwe and Zambia.

Merging visual, performing arts, and music, she follows an integrative approach when presenting art workshops for groups and individuals through her "Colour and Chord Art Studio".

EDUCATION

Hugo Naude Art School, Worcester.
Drawing, Painting and Ceramic Design & Manufacture.
History of Art.
1993 - 1996

Saint Luke Art School, Onrust River.
Jewelry Design and Manufacture.
1997

University of South Africa (UNISA)
History of Art 1 and Graphic Art 1.
1997

South African National Defence Force
Initial Military Service - Basic Infantry Training
3 South African Infantry Battalion, Kimberley
1999

South African National Defence Force
Initial Military Service - Military Field Engineer
School of Engineers, Kroonstad
1999

South African National Defence Force
Regimental Instructor
School of Engineers, Kroonstad
2002

As a lifelong learner, she continues studying and has completed a number of international Equine Qualifications during the last few years.
Price Range
US$ 47-3,132
Email
Education
People who chose Juanita's work also chose work by:
Find other: