---




Dancers
US$ 166
SOLD




Musician
US$ 166
SOLD
Remove Godfrey from your favorite artists list
Add Godfrey to your favorite artists list
About Godfrey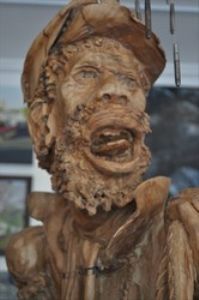 Born, 1966 in Marondela, Zimbabwe

Inspired to portray life in rural Africa, reveals Godfrey. Rural people are the same all over Africa. They are poor but have rich traditions and stories to tell. They do the best they can do. They wear their tattered clothes to work in because they keep their good clothes for special occasions.

Godfrey Chimhanzi was born in the Wedza area, near Marondela, Zimbabwe in 1966. One of 3 children, he spent much of his youth outdoors, tending the cattle & soaking in the rural soul of Africa. Among his first memories is one of watching local craftsman carving handles for knives & farm implements for the local market.
At primary school, Godfrey started whittling and carving with wood. His teachers and friends recognised his talent and encouraged him to continue. As he grew older, Godfrey dreamed of becoming an engineer. His dreams were frustrated though by a lack of university facilities, a very limited number of engineering student places available, lack of funds and the ever increasing problem of not being connected to the people in positions of power.

The bush war also took its toll. With dwindling family finances and increasing violence, the family was forced to move away from the rural areas to a safer environment in town. Godfrey lost 2 years of schooling. He started carving for the tourist trade, initially using basic tools such as a knife and an adze.

Godfrey has a passion for quality and detail. He would spend extra time carving detail as yet unseen in the normal Tourist Type carvings. Placed amongst the more run of the mill type works of other artists, Godfreys work was always in high demand. He also began sculpting in Soapstone.

Godfrey was making a reasonable living and he married his wife, Jennifer in 1995. Two girls were born, Tatenda and Natsai. His work was contracted by an Austrian who exported his carvings to Europe for a few years. Just as business was booming, corruption higher up in the Governmental exporting chain forced this partnership to end. At the same time, political upheavals in Zimbabwe saw a huge drop off in tourism. Godfrey decided to move to South Africa in 2002 legally, in an attempt to make money to send back to his family in Zimbabwe.

He made his way to Salt River, Cape Town where he rented a small cubicle at the back of a bookbinding shop. It took him some 5 years to earn enough money to send for his wife and children. He is in the process of applying for permanent residence in South Africa for them.

Godfrey is a humble and unassuming man, he is hard working and passionate about his work. His works are masterpieces and are carved with fascinating and intricate detail. His sculptures capture the essences & the nuances of a rural African culture that has all but disappeared.
Price Range
US$ 166-166
Email
Education
High School Education
People who chose Godfrey's work also chose work by:
Find other: