---




Night Lioness
US$ 251




Sunset Dhows
US$ 447




Road to Rhodes
US$ 179




Greeting Feet
US$ 224

---




Blanket Girl
US$ 161




Lollipop Girls
US$ 224




Blue Girl
US$ 268




Coffee Pickers
US$ 134

---




Swimming
US$ 161




Kettle and Rose
US$ 134




Red Colander
US$ 224




Pear Plate
US$ 134

---




Pear and Pomegranate
US$ 161




Pastel Lioness
US$ 179




Turquoise Chickens
US$ 161




Calendula Geese
US$ 224

---
Remove Lynne from your favorite artists list
Add Lynne to your favorite artists list
About Lynne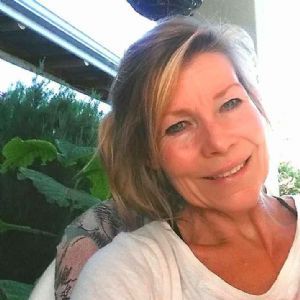 Born in Salisbury/ Harare but raised very happily with mud 'n cow-dung between my toes on farms outside of Empangeni then Eshowe in Northern KZN.

For as long as I can remember all things art-y has been one of my defining 'THINGS'.

After an entire school career of frustrating lack of any real art tutoring I finally got to immerse myself in formal training at the Fine Arts department of what was then the University of Natal, Pietermaritzburg. I attained a Bachelor of Arts degree with Painting and English as my majors and added English Honours and a teaching diploma for good measure.

What followed was in excess of 25 years of a mixed bag of teaching experiences at fantastic, innovative and inspiring schools. I have worked with children ranging from 18 month- to 18 year-olds as well as giving private lessons to adults along the way (and yet, I firmly maintain that I learnt more than I taught!). During that time I taught English and Creative Arts (Visual Arts and Drama) primarily but included many years teaching History and Natural Sciences. Add a wonderful two years as an 'Adventure Educator' to the mix - but THAT is a story all of its own!

Raising my own children while working full time left little opportunity for me to grow my own art. But now I find myself, my nest uncannily empty and totally exhausted by the politics of mainstream schooling, standing on a precarious ledge - attempting to launch myself as a free-range artist.

I have and do dabble in varying media and by this I don't exclusively mean oils/watercolours/charcoal etc - I have also ventured onto the 'platform' of Signwriting (grateful to gain valuable insights from a sign-writing old-timer quite co-incidentally on a busy street corner while on a job in East London!), mural and backdrop painting and chalk-work for a busy restaurant to name a few of my divergent creative enterprises.

Instinctively I am drawn to portraiture ( both human and animal) but have deliberately tried my hand at still-life, landscape, botanical studies and other genres. I guess one would describe me as an 'Old School' artist - coming from a mindset that looks for discipline and focus in my approach to my art. That is not to say that I am adverse to getting my hands all mucky: I relish the potential of each medium that I explore and the tactile aspect is definitely a qualifying factor.

Let it be said, for now, that I am feeling my tentative way forward, relishing the indulgence of working according to my own rhythm, tinkering with various media and subjects, and being continually surprised and enthralled by the creative process.

And the products of this? - Well, I am hoping that they will speak for themselves and that they will bring as much pleasure to the eye as they did in their conception.

It is not any more complicated than that!
Price Range
US$ 107-447
Email
Exhibitions
Calorosso, George, Aug 2018
Education
BA. (Painting and English); BA.Hons (Eng)
People who chose Lynne's work also chose work by:
Find other: