---




Cathedral Peak
US$ 320




The Gathering
US$ 383






Swazi Dancers
US$ 320

---




Where Eagles Fly
US$ 320




Paths of Light
US$ 320




I Am Sailing
US$ 192




Twilight Zone
US$ 358

---




What A Winner
US$ 192
SOLD




Oom Samie Se Winkel Stellenbosch
US$ 320
SOLD




Deep Waters
US$ 460
SOLD




Silent Hunter
US$ 256
SOLD

---




Dangerous Beauty
US$ 256
SOLD




Living Patterns of Glory
US$ 320
SOLD




Waterfront Sunset
US$ 256
SOLD




Overberg Panorama
US$ 320
SOLD

---
Remove Malcolm from your favorite artists list
Add Malcolm to your favorite artists list
About Malcolm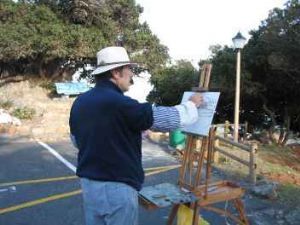 Malcolm Turner was born in England in 1941. but moved to Johannesburg, South Africa with his parents when he was 11 years old. During his extensive travels all over the world with the merchant navy, he developed an excellent eye for layout, design, scenes and portraits. He started his art career when he was 50 years old.

Malcolm had several art teachers over the years, namely Ann Linzell Stewart, Denzel Hering, Louie Audie, Dale Elliot, and during a time in which he lived in Loveland, Colorado, went for art classes with a student of the famous artist Richard Schmid. Due to his keen desire to stay in contact with many of the people that he was fortunate to meet and became good friends with throughout his life he now enjoys frequent international clientele and has received commissions from people in Australia, the UK, and the USA.

In a previous marriage Malcolm had 2 children, Joel and Kate, who are both married with children of their own, Alex, Caitlyn and Byron. Malcolm remarried 6 years ago to Jessica Turner, who was also previously married, with no children. Soon they moved to Hermanus in the Western Cape of South Africa. This was both a dream come true and a strategic art move for them. Several galleries promoted Malcolm's work and had exhibitions for him. He was also asked to display his art at the Whale Festival that is held in Hermanus every year.

In 2009 Malcolm and his wife Jessica moved to Somerset West which was once again a strategic art move, bringing them closer to the buzzing mother city of Cape Town. In Somerset West Malcolm successfully ran art classes for a select group of students over a period of a year. He was also approached by an agent during this time who sold many paintings for him, and also had successful exhibitions during this time

It was also during this time that Jessica started promoting his art online to international galleries, where Malcolm began to become highly collected worldwide. His art was also sold at various galleries in Somerset West and Stellenbosch.

For Malcolm art is all about portraying people, landscapes, seascapes, boats, underwater scenes, and places of interest that emerge in all their glory. As Malcolm expressed himself, ]It is not so much about the location or the subject, but how it emerges as a creation that stands on its own merit as a thing of beauty and design. The portrayal of my art comes from my belief that our thoughts and beliefs determine the outcome of our lives. By seeing the patterns and rhythms of nature, we echo the dreams of our hearts, so we engage with creation to reveal the truth that we see in creation to men. There are shadows and there are lights, differing tones in complex patterns that form the visions that we see, and this is my reality. Depending on how much confusion or peace lies within us determines how we view the world; and how we view the world determines our quality of life. Hopefulness produces joy; fear and anxiety rob us of the same. So here in Africa I want to depict scenes of tranquility, peace and joy so that people may see light in the midst of darkness. My paintings are a portrayal of hope and light in a dark continent. You can say that my work is ]Art and Soul - Malcolm Turner, 2013

In February 2013 Malcolm and Jessica moved to the stunningly beautiful town of Mossel Bay, in the Western Cape (see the set of 3 paintings that Malcolm painted from life), The city of George which is half an hours drive from Mossel Bay is the home of one of the biggest local arts festivals in the country and is also Malcolm and Jessica[0x1]s favorite holiday destination, where they go to Carmel, a lovely holiday resort with its breathtaking views of Victoria Bay and mountainous surrounds. As they said, [0x1]This is our little portion of heaven[0x1].
Price Range
US$ 109-460
Email
Exhibitions
Malcolm's had several group and solo gallery exhibitions in Johannesburg, Hermanus and Stellenbosch. In May 2011 he was approved by the South African Arts Diary, a prestigious diary that comes out every year in November which only exclusively selected artists can display their works in. The South African Arts Diary is distributed in all the prominent bookshops, including Exclusive Books and Wordsworth. Look out in 2015 when his work will be featured. His art has been classified by the galleries as Investment Art, meaning that any piece that is purchased will increase in value with time.
People who chose Malcolm's work also chose work by:
Find other: