---




Miriam 2
US$ 1,342
SOLD




Cape Blush 2
US$ 1,342
SOLD




Jacarandas
US$ 805
SOLD




Face of Africa
US$ 1,396

---




The Violinist
US$ 1,289




Horse in the Wilderness
US$ 1,396




Mother and Child 2
US$ 1,289




Candle Lighting
US$ 1,396

---




Ethiopian Figure
US$ 1,396




Ethiopian Figures in Landscape
US$ 1,396




Family Life Africa
US$ 859




Mother and Child Africa
US$ 859

---




Ballet Talk
US$ 795




Barmitzvah boy
US$ 859




Succah
US$ 859
Remove Terry Ann from your favorite artists list
Add Terry Ann to your favorite artists list
About Terry Ann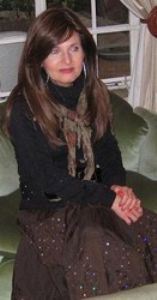 TERRY ANN KALINKO.
Born 10 September 1949 Johannesburg South Africa.
Married with children and grandchildren.

[0x1]I have painted my entire life. I am an arts imitates life artist.
My child art was frequently exhibited at the Rand Show. I won awards.
I matriculated at the Bok Street School of art, with distinction in watercolours painting, both figure and still life.
The late Lionel Abrams was my most influential teacher, however I am fundamentally autodidactic.
I spend many hours painting to fulfil my painting commitments and commissions and strive for ultimate perfection.
I paint in oil on canvas.

I have held numerous solo exhibitions and been part of several mixed exhibitions both locally and Australia.
I was one of the finalists in [0x1]The Cricket Art Prize 2011/2012.
This was a six month tour travelling from The cricket Stadium Sydney to The Media House , Collins Street Melbourne and finally to The Bradman Museum, Cricket Hall of Fame, Bowral, Sydney [0x1] see article attached. The painting " Cricket under African Sky " was sold. Twelve paintings were selected for the cricket art calendar, mine being one of them.

This is the bit about myself that featured in the [0x1]Cricket Art Prize[0x1] catalogue.
Kalinko is an avid colourist, her use of warm and cold colours vibrate and create a joyous visual symphony, reminiscent of the French impressionists, but very original.
I use universal truths and passion to transform a blank one dimensional into a deep breathing world. I have no hidden agenda - [0x1]I love to paint[0x1].
Art reviewer Robyn Sassen said [0x1]She works with a gentle water colour touch, like sunlight against stain glass, yet intrepid and sincere in her use of oil.
[0x1]Great energy[0x1], commented Cherie Sissoos, the 2007 curator of The Johannesburg Art Gallery.

Chris Crake said " Kalinko is an extremely talented and exciting artist, whose art looks beautiful at the same time as having investment value. "

I have and continue to sell extensively to corporate and private collectors locally and abroad. London, Canada, New York, Australia, France and Israel.
I am a social artist , but am very versatile and paint all genre.
I paint Africa, the people and landscape Cape Winelands , Bo-Kaap streets, seascapes, flora-Namaqualand, Jacarandas, fauna, Soweto, Gauteng.
Spiritual paintings of Jewish weddings and traditional customs, The wailing wall in Jerusalem, Cuban seas and Venice.

Corporate collectors include inter alia, Prime media, Sasfin, Eskom, to mention a few.
My paintings are depicted on cards, calendars, magazines [0x1]Designing Ways", "The Readers Digest[0x1] and art books. I have featured on radio Australia and S.A.
T.V. and public presentations.
Commissions of portraits to landscape, and seascape have occupied me fully for the past four years.
I have sold approx. one hundred and seventy paintings many of my clients own as many as six .
I was also a layout artist for a group of magazine and a fashion designer and coordinator for my clothing shop Samanthas Highpoint Hillbrow.

Price Range
US$ 795-1,396
Email
Exhibitions
SOLO
1988 Eltham Gallery Australia,
1990 BMW Showroom,
1990 Crake Gallery,
1991 Crake Gallery,
1992 Crake Gallery,
1993 Crake Gallery,
1994 Wolhutters Mpumalanga,
1995 Karen Mckerron,
2003 WoW Summerplace,
2006 Hyde park,
2007 RCHCC.

MIXED.
1989 Australia,
1993 & 4 Crake,
1994 Natalie Knight Gallery,
2001 WoW Summerplace,
2008 Beyachad,
2011 RCHCC,
2011 Sydney cricket Stadium,
2012 Media House Gallery Melbourne Australia,
2012 The Bradman Gallery Cricket Hall of Fame, Bowral Sydney Australia.

I have exhibited at:-
The Loop Gallery, Mpumalango,
Art on the Square,
The Whitehouse Gallery,
Alive Art,
Art International,
Errol Boyley, Sandton.

I am presently exhibiting at The Henry Taylor Gallery
and at my own gallery at 1 Bruce Street Waverley, Johannesburg.
People who chose Terry Ann's work also chose work by:
Find other: