---




La Vie en Piaf I
Juanita Benade
US$448
SOLD




La Vie en Piaf II
Juanita Benade
US$167
SOLD




La Vie en Piaf III
Juanita Benade
US$615
SOLD




Music: New Media Events per Term
Juanita Benade
US$49
SOLD

---




Drama: New Media Events per Term
Juanita Benade
US$49
SOLD




Drama: New Media Events per Term
Juanita Benade
US$49
SOLD




Music: New Media Events per Term
Juanita Benade
US$49
SOLD




Drama: New Media Events per Term
Juanita Benade
US$49
SOLD

---




Music: New Media Events per Term
Juanita Benade
US$49
SOLD




Drama: New Media Events per Term
Juanita Benade
US$49
SOLD




Music: New Media Events per Term
Juanita Benade
US$49
SOLD




Music: New Media Events per Term
Juanita Benade
US$49
SOLD

---




Music: New Media Events per Term
Juanita Benade
US$49
SOLD
About Colour and Chord Art Studio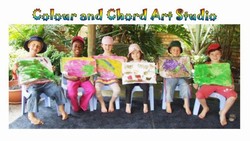 "The teacher who walks in the shadow of the temple... gives not of his wisdom but rather of his faith and lovingness. ...he does not bid you enter the house of his wisdom, but rather leads you to the threshold of your own mind."
THE PROPHET
Kahlil Gibran

Colour and Chord Art Studio offers an integrated approach to the performing and visual arts, exploring music and light, sound and sight as children are guided through their inner kingdom of natural creativity.

Activities for Age Groups 3 - 6 Years and 6 - 9 Years Include:

- Drawing and Painting
- Costume Design
- Dancing
- Kiddies Theater and Musical Dramatization
- Kiddies Percussion
- Crafts

Works are highly individual pieces and reflect each student's unique creative journey.

Each of the "classes" becomes an organic artwork, a "happening", as the participants and facilitator, Juanita Benadé, collaborate and discover new frontiers.

Juanita is a corporate artist who executes works for Fine Art and Commission purposes. Visit her South African Artists website: http://www.southafricanartists.com/home/JuanitaBenade.


Price Range
US$49-615
Artists Represented
Email