Medusa Rising
Oil on Canvas, US$ 2,058

Medusa Rising
Remove from your Shopping Cart
Remove from your favorite works list
Add to your favorite works list
Details
Oil on Canvas
oil on canvas
W: 700mm x H: 700mm x D: 25mm
W: 28" x H: 28" x D: 1"
Approx. Weight: 0.5kg
This work is unframed
Price
US$ 2,058
Scale
About "Medusa Rising"
I came across the story of Medusa while researching a piece of ceramic work. I was shocked at the inherent patriarchal nature of the Greek Myths and had never been struck so clearly!

Of course I have encountered these myths before, but the inherent patriarchal bias never occurred to me within this new-found context.

Recent shifting global dynamics and sweeping revelations of shockingly distorted narratives written to favour and hence legitimise unfair power games of 'victors' gave me a new context from which to review the Medusa myth in particular.

I felt that Medusa had been wronged and that her decapitation and her demonisation was NO VICTORY but a ruthless slaughter of 'the feminine'.

I also felt that her punishment for being raped was vindictive and based on jealous revenge and perhaps has some link to the reason why some cultures stone women who have been raped.

Having being raped by Poseidon (to whom Athena was attracted) and then having being punished for desecrating her temple (no accountability for Poseidon of course) is an OUTRAGE to a non patriarchal paradigm!! Period.

I feel we are living in a time when ALL PREVIOUS PATRIACHAL NARRATIVES whether religious, political, philosophical, need to undergo reassessment as they have distorted and twisted humanitarian interactive narratives.

Having myself survived a traumatic childhood of victimisation and bullying, and being ripe for degeneration into drug addiction and possible suicide, I had to re-investigate my childhood from a completely rationalised perspective to try and understand my dynamics and to reassess my context, if I was to emerge as a rational adult not hell bent on buying into the patriarchal mind set and making everyone else suffer!!

This of course has become the story of my life and some aspect of this is covered in my novel "TELL TALE".

ART and self expression, reading and research became a guiding tool through which I was to negotiate my healing.

In order to heal I had to forego the dominant patriarchal paradigm as all it afforded was victimisation and punishment. Clearly this was not for me.

The point here is that if I could discover a healing process which had worked (by and large) for me, then why not apply this reassessment to patriarchal outmoded paradigms which everyone takes for granted, yet no longer serves new perspectives in this rapidly changing world?

We cannot continue under this guise any longer as the world demands a more equitable and harmonious interaction.

Hence Medusa Rising.

Within the knowledge of her mistreatment and placing a clear equitable gaze at her mis-punishment, and realising how patriarchal narratives have brought about suffering and domination which is becoming more and more insane as evidenced in global and domestic dynamics, the Medusa myth is ripe for creative re-investigaton.

We therefore need to understand by beginning with the realisation that her slaying was an act of COWARDICE and is not in the least bit 'heroic'.

In short:

Medusa had been raped in Athena's temple ((for her beauty)) and then punished by turning her skin greenish and head of snakes by Athena. Any man who looked into her eyes in fear was turned to stone.

The reason why I claim the slaying was NOT an act of heroism is that Perseus (her slayer) could not overcome her gaze and used trickery (the mirror) to slay her. He is thus seen as having OUTWITTED her and hence the victor. That is a specifically patriarchal affirmation.

She was tricked into decapitation -her head becoming a potent weapon- and her slayer declared a hero!

This narrative is RIDDLED with patriarchal fear....and distorted with with patriarchal presumption.

Medusa in my painting is thus depicted as 'rising' as she is rightfully angry as she reclaims her power i.e. her gaze, while at the same time being in indignation of her mythological (i.e. past) treatment.

I have depicted her with dreadlocks (which of course can still be interpreted as snakes) to modernise the myth.
Remove Helgé Olle from your favorite artists list
Add Helgé Olle to your favorite artists list
View all 60 works by Helgé Olle Janssen
About Helgé Olle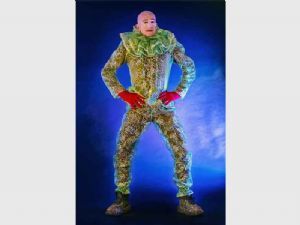 Photographer: Gerald Botha of Stella Nova Studios, Kloof, KZN 2016

Costume design and construction, make-up, concept: Helge Janssen.

Art was not an option for study at High School. During my Biology teacher training, drawing those microscopic details began to stir something within my creative urge. However, I only began painting when I later studied fine art at PMB University. During this year there were disagreements with some of my lecturers. I then left for Europe on a one way ticket! HUGE changes occurred in my 'psyche' during my travels. However travelling made me realise how 'African' I was and I returned to South Africa at the end of 1975.
Back in this country, I had a driving need to transform my "European experiences" into a particularly South African CONTEXT and began to pursue whatever creative opportunity presented itself to me. There were absolutely NO formal structures in place that could meet my needs, so I subsequently formed my own dance groups, or worked entirely on my own. My novel 'TELL TALE' (2005) has documented much of what life was like during this time. It is a mixture of docu-reality and histro-practicality, the deeply personal and the utterly insane!
I have written and performed in 5 "avant-garde" plays. In 1984 I founded an avant-garde performance group (together with Gisele Turner, Gisele Stafford, David Mulvey, Peter Hart-Davis, Simon Stengel) called the Body of Despondent Artists and we were active as a group until David's departure for Ireland in 1987. Joining the group in performance and/or creative energy/classes were Collen Castelijn (Seer in 'I Have No!'), Ruby Bogaard (Dark Corners of a New Mind), Andrew Yates (photography), Aryan Kaganof (Ian Kirkhof), Rosemary Jones (Through a Lens),Ilse Biel, Mikhail Peppas, Andre Oosthuizen, Jessica Ramsden, Eldon Swallow. I gave classes free of charge, directed, made costumes and masks for the group, choreographed, experimented with performance/dance styles. This was a period of INTENSE growth and experimentation and research into theatrical techniques. I subsequently pursued a solo career performing in two self penned plays "BLOOD" (1988 - 90) and "The Come-Uppance of Punch" (1995 first performed at the Windybrow Festival, then 1998 and '99 Bat Centre). "Punch" featured a prologue and epilogue based on the NEMESIS archetype written by Eldon Swallow.
I spearheaded the 'alternative' music scene through the '80's and mid '90's (15 years) djing in various clubs in Durban (starting out at Rumours which eventually became Faces) under the title of "PLAY". I introduced fashion shows, performances into the night club scene. People dressed up and fantasized with their garments on a weekly basis, without having to resort to quick fix solutions by hiring costumes. I produced a fanzine entitled "Facet" in which the focus and direction of the 'alternative movement' had a 'voice'. The criteria was essentially non racist, non-homophobic, non-sexist. I, together with BODA, became a member of the ECC in 1985.

I see my paintings as PSYCHEreal or SUPRAreal as opposed to surreal.
I had a retrospective exhibition of 15 of my artworks at Chilliplum bistro in Kloof 15 June - 19 July 2013. This exhibition was reviewed by Aryan Kaganof (artist, film maker, poet, novelist) and was published in the September issue of ART SA of that year! Yay! :-)

Price Range
US$ 61-17,721
Email
Exhibitions
First exhibition was at the Space Gallery in Cape Town 1977
Most recent exhibition - retrospective at KZNSA Gallery on invite with Kaganof 2002, where I gave a performance using my voice (making sounds as I moved and twisted and explored the physical) - and held a short fashion show as well as exhibiting 9 of the paintings you see here. On an orange wall.

Theatres exhibitions- Stable Theatre/Our House Theatre - (considered an 'unrecognized venue' for the exhibition of art and therefore not taken seriously by the art establishment) or 'low key' galleries such as Things Gallery (Dbn) and the Carriage house Gallery (Jhb).

While living in Yeoville (1994/5) I trundled around to EVERY KNOWN art gallery in Jhb. NOT one single gallery showed the slightest interest in my work, the closest telling me that they had a three year waiting list! What was my absolute worst though, was being shown work of 'New York' artists and being told to 'paint something like that'.
I have been influenced by JUNG - particularly with the discovery of various ARCHETYPE IMAGES which have recurred in my paintings. I was a member of the Jungian Society and attended regular monthly lectures/meetings/workshops under the guidance of Gloria Gearing. This was indeed a privilege. My work has been concerned with the PSYCHIC state of apartheid (with specific reference to the 'collective unconscious') and the ravages of this UNSUSTAINABLE political/social/cultural state. These paintings therefore represent a particularly dark phase of South African history from a completely unique perception, and serves as a telling document of the times.

Yet as time progresses, my paintings become more universal in application. It is as if what I was experiencing under apartheid has transcended into a universal perception of common issues of suppression, control.

There was a break in my painting betweeen 1996 and 2015. During this time I was teaching. My creative expression took on the task of making documentaries and filming musical performances,most notably the documentary of Jaspar Lepak. The documentary has not been presented to public viewing as yet.

I re-entered the teaching profession in 1997. Looking back now in 2013, all I can say is that I have learnt much. In 2009, experiences at a High School in the Umbilo area have left me devastated where I was unfairly dismissed. The court case (which I have won twice) now enters its 9th year as I attempt to pursue damages through the Labour Courts. To me, this procedure has become an ART INSTILLATION of note!


"The mechanism whereby change happens in a democracy is to speak out. And if nobody listens, then to speak louder" - David Lewis.

Education
Natal Teachers' Senior Diploma III (Botany and Zoology)
People who chose Helgé Olle's work also chose work by:
Find other: