We're all about great Art...
If you're looking for affordable, quality, original art, you will find here a wealth of talented artists working in a mix of mediums with works available for purchase to suit all budgets. We ship art all over the world and accept all major credit cards.
Not sure where to start? Why not just dive in and browse our gallery? If you've come here looking for a specific artist you can type some or all of their name into the search bar above and hit the Enter key. If on the other hand you just want to look for pictures of say, elephants, then you can either type this into the search bar above or use the power search facility on the tab above.
You will find the art to be of a very high quality, with a passion and depth that is borne of the rich cultural heritage that is South Africa infused with the trauma of transformation, the love of nature, the optimism of reconciliation - all factors that inform the superb art of the Rainbow Nation. Listen with your heart as these artists tell their story.
We welcome your feedback and comments and hope you enjoy the site, appreciate the art, and most of all find something on these pages that you want to take into your home and hang on your wall!
To help develop our vibrant site and attract more visitors on specific subject searches we have added some new pages as additional entry points. These pages include additional links to other pages of interest on our site: art, impressionist art, fine art, abstract art, art gallery, portraits, still life, online art, oil paintings, watercolor paintings and wildlife paintings.
Bookmark this page on:
What our customers say...
Sorry a delayed confirmation but I can confirm I received the kudu of Barbara Siedle and am thrilled with him. Many thanks for the very efficient service!
K Lawrence, UK
---
Latest Additions
Featured Work
"All I could think of was sunlight"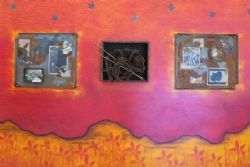 "All I could think of was sunlight mixed media, carved, printed, embossed, photos," writes the artist and the work does indeed have a collage/pinboard feeling. The orange and pinks are warm and rich and complemented by touches of turquoise so the work takes on the feeling of wallpaper yet interspersed with personal aspects, which make one feel privy into getting a glimpse of the artist's life. Its not a work that you will tire of looking at as each nuance reveals itself.