---






Mother Nature
Faith Boshomane
US$817






Red Trees 2
Lynette Lacock
US$368

---






Sequence Women
Zahn Engelbrecht
US$255
About Absolut Art Gallery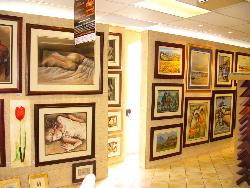 Adriaan Boshoff, Amos Langdown, Andre vd Walt, Annette da Silva, Antionette du Toit, Carla Bosch, Cornelius Bosch, Erna Basson, Fiona Rowette, Frans Claerhout, Freda vd Merwe, Gary Nass, Glendine, Greg Lawson, Kenneth Manoley, Louise Halliday, Luther Marais, Munro, Paul Munro, Paul Schone, Peter v Zyl, Rensburg, Shane, Sonja Meyer, Theo Gerber, Winnie Eaton

We also stock full ranges of various art materials from Zellen, Windsor & Newton, also stretched canvasses and canvas boards. We sell prints, mirrors, photo frames, Africa box frames. We frame absolute everything.
We also sell a full range of dem daco – willow tree.
Price Range
US$92-817
Artists Represented
Email