---








Asking for Time
Andre Fourie
US$349




Face It
Vernon Woodbridge
US$67

---










Blue Bay
Andre Fourie
US$707

---




Aura Lilies
Andre Fourie
US$528






Clay Vessel
Andre Fourie
US$83




Sam The Ram
Celeste FourieWiid
US$707

---




Magic Chair
Andre Fourie
US$707




Terracotta Vase
Andre Fourie
US$67




Marine Moods
Andre Fourie
US$88




Clay Pot 1
Andre Fourie
US$56

---
About Fourie Gallery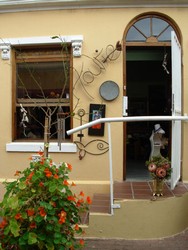 Representing:

André Fourie

Celeste Fourie

Gerhard Vlok
Our gallery is in the alley running underneath the Cattle Baron.



We also have a wide selection of Kapula Candles, Hand painted textiles, stained glass lampshades and collectables.



We opened our doors 18 December 2005, with a private exhibition of our artists and have recently begun to market our artists on the internet.
Price Range
US$56-707
Artists Represented
Email