---






Granny's Teapot with Roses
US$ 637




Five White Roses
US$ 121
SOLD




Roses in an Antique Teapot
US$ 637
SOLD

---




Roses in a Glass Pot
US$ 637
SOLD




Morning has Broken
US$ 191




Forest Cathedral
US$ 433




Greet the Morning
US$ 78

---




Forest Glade
US$ 191
SOLD




Tall Trees Abstract I
US$ 78
SOLD




Tall Trees Abstract II
US$ 78
SOLD




Tall Trees Abstract III
US$ 78
SOLD

---




Tall Trees Abstract V
US$ 63
SOLD




Secrets of the Forest
US$ 127
SOLD




Bush Drive
US$ 127
SOLD




Geese on the Farm
US$ 127
SOLD

---
Remove Marie from your favorite artists list
Add Marie to your favorite artists list
About Marie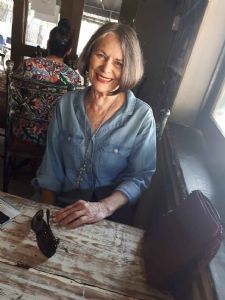 South African Marie Theron (b. 1944) and trained as a Art Teacher. She has held solo exhibitions both locally and overseas, and has participated in exclusive group exhibitions. Investors in her oil and acrylic works range from foreign embassies, corporate offices, guesthouses, libraries, hospitals and international private collectors. Her work has sold in Australia, Britain, Canada, Croatia, Ireland, Hungary, the Netherlands, Germany, Austria and the USA (more than 30 paintings in America) She was commissioned by the Ass of Arts Pretoria, the Croatian Embassy and Academia Cravatica in Zagreb to submit a painting "Sister Power" for "The Challenge of the Tie", a world-touring permanent exhibition which toured Pretoria, Johannesburg, Brussels, Prague and Brazilia in 2005 and further around the globe in 2006.
Price Range
US$ 57-955
Email
Exhibitions
SOLO EXHIBITIONS:
Protea Valley: 14/09/01-30/09/01
Budapest: 17/06/02-28/06/02
Lindy van Niekerk Gallery: 25-31 Aug 2002
Old Town House Museum: 15 April 2004
Sandton Civic Gallery: 20 Apr - 4 May 2004
Embassy of Croatia, Consular room: 5 May -5 Aug 2004
ART IN THE ATTIC, Simone's in Darling 28 Aug -24 Sept 2009
Cupcakes en Kaapse Kuns Silver Lakes Pretoria 11 Sept 2010
1-14 Aug 2013: Can You Hear the Drums with Tatyana Binovskaya and Mart Leeuwner at ART LOVERS 1932 , Long Street, Pretoria
19 September 2015: "FRESH" an exhibition of works Marie Theron and Yvette Beneke at Grotto Bay Estate.

GROUP EXHIBITIONS:
Lindy van Niekerk Gallery 6-13 Oct 2002
Africa Day Budapest 18 Oct 2002
Budapest:19-31 Oct 2002
Voëlklip, Hermanus: 17-23 Dec 2002
Lindy van Niekerk Gallery: 2-15 Mar 2003
Lindy van Niekerk 14-21 Sept 2003
Lindy van Niekerk 12-25 Oct 2003
Voëlklip, Hermanus: 16-23 Des 2003
Studio d'Art: 8-10 Jan 2004
Studio d'Art: 19 Feb 2004
Lindy van Niekerk Gallery: 11 Mar 2004
Eduardo Villa Gallery, Pretoria 6-15 April 2005
Gordart Gallery, Melville, Jhb 17-28 April 2005
aRt 27 Exhibition, Grotto Bay 26-30 April 2007
Yzerfontein Art in the Country Experience 24-25 Nov 2007
Darling Museum, Darling 1-28 Feb 2008
Darling Art Gallery Birthday Exhibition April 2008
2009 An ongoing exhibition at Lelieblom Farm
2010 A Slice of Life Exhibition Liebrecht Gallery, Somerset West
2010 Darling "Angels Exhibition" 20 Nov - 31 Dec
2012 Hopefield opening of Perels en Pampoene Gallery
2012 Goedverwacht Museum,curated by AntheA Delmotte 22-23 June.
2012 Perels en Pampoene Gallery Hopefield: Seasonal Movements 6 July - 31 July
21-24 September Darling and Surrounding Areas in the Springtime at the Darling Wildflower Show
Miniature Group Exhibition at Art Lovers 1932 Gallery Pretoria 22 May 2014
Klein Werke Uitstalling. Art B Gallery, Bellvile Mei 2014

COLLECTIONS
2002 Budapest, Permanent collection of the South African Embassy, Budapest, Hungary
Collection of the President of Croatia
2004 Gallery Cravatica, Zagreb, Croatia, "Sister Power" is part of the permanent exhibition of this gallery
Education
Pretoria Teachers College.
People who chose Marie's work also chose work by:
Find other: