---




Abstract Landscape
Louise Kluyts
US$368




Strelitzia
Louise Kluyts
US$77






Blue pot
Louise Kluyts
US$95

---




Hopeful
Louise Kluyts
US$766




Zebra
Cecilia le Roux
US$89




Midas Touch
Cecilia le Roux
US$61




Midas Touch
Cecilia le Roux
US$61
SOLD

---




Dissappointment
Cecilia le Roux
US$286
SOLD




Thought Patterns
Sonja Malherbe
US$123




Complimentary
Louise Kluyts
US$715
SOLD




Complimenatry1
Louise Kluyts
US$715
SOLD

---




Complimentary2
Louise Kluyts
US$715
SOLD




The Nguni
Sonja Malherbe
US$388




Efflorescence - Flowering, Blooming
Cecilia le Roux
US$255
SOLD




Hope
Cecilia le Roux
US$255

---
About Star Nation Art Studio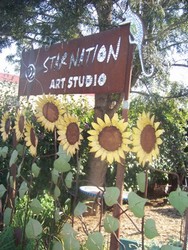 Star Nation Art Studio is a working studio/gallery representing a group of artists living and working in the Heidelberg, Western Cape area.
Works include fine art, sculpture, mosaic and decorative art.
The Gallery is situated in one of the oldest and smallest churches in Heidelberg. André Kluyts is the resident metal smith, spesializing in functional art and sculpture. The art in the gallery varies from abtract to modern to traditional with pastels done by Constance Robertson

Heidelberg is situated on the N2 on route to Knysna in the Western Cape. It is a charming agricultural village with beautifull scenery and warm, friendly people.

In the two studio's on the property fine art - oil on canvas and beautiful mosaic functional art is handmade. The Studio also offers art and mosaic classes for groups who book in advance.
Price Range
US$61-919
Artists Represented
Email